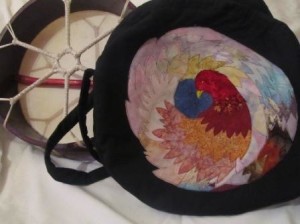 I had to share some information for all of you Reiki Drummers and to anyone who reads this blog post who has their own drum.  I was truly blessed to have Sarah Baker from "All reiki'd up" at a recent Reiki Drum class to which she brought along her drum in one of the most beautiful drum bags I've ever seen.  Sarah designs and makes these bags herself and runs a bespoke service providing drum bags according to your specifications.   They are truly exquisite and she is currently making me one which I have commissioned with some of my power animals and other symbols for which I am excitedly waiting.
I have asked Sarah to provide me with some information to share with you as per the following and for those of you who are coming along to March's Reiki Drum Share, she will have some designs to show you along with order forms should you wish to place an order.  Should you want to order one before March so you can show off your exquisite bags at the Share and carry your prized possessions in style then please contact Sarah at the number and email address below.
Drum Bags designed by Sarah Baker – All reiki'd up
Hand made bags designed to hold frame drums, made to measure for your drum.
The bags come with bespoke appliqué designs to each side. Inspiration for each of the designs comes from people's interests, power animals, nature, symbols, signs and other sources. Each design starts off as a hand drawn picture designed to fit the size of bag required. The picture is then "line drawn" and cut into jigsaw type pieces, for the appliqué pattern. Materials are chosen for each individual piece of the jigsaw, which is then cut and stitched to complete the picture, often formed in multiple layers. Whatever your inspiration is, it can be turned into a beautiful adornment for an individual bag. Other options for designs can include a fabric printed photograph quilted in a single layer, perhaps a photo of a special place or beautiful visitor to your garden?
Every bag is unique with no two designs ever the same, as the process of building the picture is completely free-hand and "organic".
The appliqué designed panels are then quilted and made into the front or back panel of a drum bag. The sides of the bags are also quilted to provide some protection for your drum while travelling. Handles can be made from the same material as the bag or from webbing straps. They can be designed as a shoulder bag, hand carry bag or even a back pack to suit your needs.
Bag designs can be altered to cater for personal use or to carry other instruments – singing bowls and shakers etc.
Prices vary depending on design requirements and materials used. Prices for a bag for a 16" frame drum start at £60 for a bag with a single appliqué design.
Contact Sarah Baker on allreikidup@gmail.com or call 07740 701102 to discuss your requirements and pricing.