"I am overwhelmed at the beauty, power and magnitude of the Holy Fire Karuna energy. I find it profound, humbling, awe inspiring, and a wonderful gift for which I'm eternally grateful. I cannot recommend it highly enough to those Masters who would like to take their training to the next level." - Sarah Gregg
Holy Fire Karuna Reiki®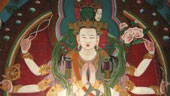 It has been said that to gain the full benefit of the Holy Fire Karuna Reiki® energy, the student must be ready. The Holy Fire Karuna Reiki® Master class is the next step for Usui Reiki Masters. It is essential that students have completed the Usui Master training before working with the Holy Fire Karuna Reiki® energy due to its powerful approach. Experience from Reiki Mastership allows better use of the Holy Fire Karuna Reiki® healing tools.
The energy is of a very high frequency and will result in many shifts and changes for those who are attuned to its vibration. It is really intended for those students who want to take their energy training and spiritual development a stage further and the initiations work at a very deep level, allowing the student to work towards deeper personal and planetary healing and enlightenment. Karuna is a Sanskrit word and is used in Hinduism and Buddhism. It is translated to mean any action that is taken to diminish the suffering of others, and could also be translated as "Compassionate Action". The Holy Fire Karuna Reiki® system was developed by William Lee Rand at the International Centre for Reiki Training. It evolved out of Usui and Tibetan Reiki from a desire and the knowledge that there is always something greater waiting to be uncovered.
Holy Fire®
The Holy Fire energy was channelled at the beginning of 2014 by William Rand. As an energy it is both powerful and gentle and provides purification, healing, empowerment and guidance. It has been added to the Holy Fire Karuna Reiki® training.
Holy Fire energy is noticeably more refined and comes from a higher level of consciousness. Some of the qualities students have experienced include:
Works continuously even when not thinking about it and spontaneously heals issues as they come up.

Always respects free will.

Heals deeply and quickly without distress.

Heals relationships and interactions with others.

Releases worry and replaces it with a sense of safety in a most pronounced way.

Spontaneously provides guidance that is palatable for every level of life experience.

Tends to develop all the personality traits that are healthy for a person to have such as love of self and others, kindness, patience, confidence, vitality, enthusiasm, optimism, trust, joy, peace and so forth.

One of the more wonderful effects is a feeling of being loved. This is a deep and refined feeling that is very nurturing.

Once received, it continues to develop itself to be more evolved and effective.
Holy Fire connects with an ancient wisdom and is profoundly transformational. A calming and peaceful energy, it is said to represent Source energy directly. The term "Holy" comes from the Greek word "Holos" meaning holistic in mind, body and spirit and the Holy Fire energy works on all of these levels.