I love Turkey.  Its Earth energy is strong and powerful giving way to rugged but beautiful landscapes and it fortifies you….   Although the UK has been basking in temperatures of the high 20s this past week, I had decided to go somewhere hot with guaranteed sun to celebrate the Summer Solstice and ended up on the Lycian Coast, southern Turkey.  I had deliberated about taking one of my buffalo drums, as it is mandatory for me to drum now as the sun rises on the morning of the Solstice, but I decided I'd hunt out a drum whilst I was there.  I came across this beautiful Djembe which was perfect for the job in hand and made for a rhythmic start to my Solstice day, it is a essential tool  for the workshop I'll be attending next weekend which I'm looking forward to sharing with you.
I also managed to spend the day at Pinara for a truly magical experience.  Pinara is an ancient Lycian town, now ruined, set in the most magnificent scenery.  It has hundreds of rock tombs carved into the cliffs and Spirit is felt very keenly there.  It was quite an amazing experience visiting this truly beautiful site as my husband and I were the only people there all day.  As you walk through ancient olive trees which are probably hundreds if not thousands of years old, you may meet the odd tortoise or two, and you are accompanied in all that you do by the singing of the crickets.  This is typical of Turkey, it has so many ancient ruins, that people tend to visit the easily accessible ones so it's quite common to find yourself in a place where it feels as if you've discovered it for the first time!  Pinara was a religious centre dedicated to the worship  of  Apollo, God of Sun, Light, Medicine, Healing and Prophesy amongst many things;   Athena, the Warrior Goddess, incarnation of Wisdom, Purity and Reason and Aphrodite,  Goddess of Love and Beauty.  What better place to enjoy
the energies of the Solstice.  We made our way up to the temple where I gave myself a very special Reiki Self Attunement and spent time meditating and chanting along with the crickets.    It truly was a magical, mystical experience.
I was staying right on the coast overlooking the sea and spent a lot of time apologising to her and sending her love and healing for the atrocities she is experiencing in the Gulf of Mexico  On my return this weekend, my friend Louise Page had sent out an email with information which reinforced the work I had done with the Ocean this week.  Created by Masuro Emoto, this beautiful video provides us with a prayer which if said will connect with the world's waters and bring healing to them. 
For those of you who have not come across Masuro Emoto's work before, I would highly recommend his Messages From Water series of books.  His work is based on the premise that water can be affected by thoughts and words on a vibrational level, as is everything else in the Universe. When I was in Arizona some years ago I went into a Korean restaurant which had lots of Masuro Emoto's books and which was running its own experiments on vibration and I decided to do a similar one of my own when I returned home.  Unfortunately I don't have the photographic evidence to prove it as it was a few years ago now, but several of my students of the time saw the proof of the work.  I took two organic red onions from the same source and put them in identical glass jars filled with tap water.  I thanked the Spirit of the Onion for sacrificing itself to this experiment prior to starting and labelled one jar  (A) "You are Deeply Loved", whilst the other (B) was labelled "You Fool".  Over a period of six weeks, I watched as Onion A grew a strong root system and lots of greenery, and just continued to grow tall and strong.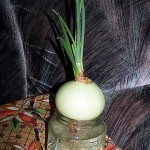 Onion B had a very poor root structure and weak, straggly greenery and after the set period it actually collapsed into the water in a soggy mess.  This was quite a powerful way of proving  thoughts and words are things and give off a positive or negative vibration.  I also found it very symbolic that if we are loved and supported, especially as children and our roots (family) are strong, then our potential is without limits.  If however, we are berated and criticised, then our thought processes can often hinder our growth, which was reflected with Onion B.
Again, continuing the theme of the last few blog entries, this last week has reinforced my awareness of the need to take time out to recharge one's batteries.  Whenever you have the opportunity to take time away from your usual routine, in my own experience, it's often a pivotal time for transformation and to prepare you for changes that are on their way.  Having absorbed lots of Solar energy this past week, and the strong power of the Turkish Earth energy, I'm feeling ready for the new experiences that are coming my way over the coming months.
That said, I have just one space left on this year's Annual Reiki retreat being held at the beautiful Phoenix Centre in Dunwich on the Suffolk Coast if you yourself would like to take some time out to be quiet, reflect and meditate in an environment which is specifically geared towards healing.   The Phoenix Centre has been especially built and designed in an area of outstanding natural beauty on a series of ley lines and the energies there are extremely magical and powerful for the healing work we intend to do on a Reiki retreat.  Caroline Weatherby, the proprietor has even had all of the electrical cabling of the properties specially insulated so that we do not get any electrical interference with the work we do.  The Barn room is a great space for healing and meditation and the surrounding area has stunning walks along the beach and in the Suffolk countryside for any outdoor work we may do.  The cottages where retreatants stay are very special and extremely comfortable.  The whole aura of the Phoenix Centre is a holding, nurturing energy, just perfect for retreat work.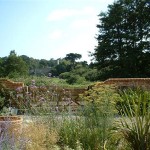 Because of the in depth nature of the work, Reiki II level or above is a requirement for the weekend. All Reiki lineages and styles are welcome. This year we are blessed to have an experienced vegetarian chef catering for all of the meals.  All rooms are shared.
This year's retreat programme will include
•    A variety of Reiki Healing Techniques
•    Other forms of energy work
•    Reiki Sharing
•    Reiki Kotadama work
•    The Reiki Drum Journey
•    Meditation
•    Reiju Empowerment
•    Reiki Gong Bath
•    Fire Ceremony (weather permitting)
If any of you reading this would like to snap up this last position, then please email me at info@reikidrum.co.uk or telephone 01279 600104.
So on that note, wishing you all joy, love, happiness,  with strength and determination for your goals from the Solstice.