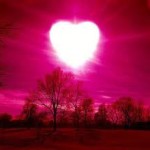 Everywhere I go at present I'm being bombarded by hearts.  Friends have been wearing heart shaped earrings, Christmas cards are arriving with hearts on them, the small white lights we have decked on the cypress tree in our garden rearranged themselves in the wind to form a heart shape.  I've just returned from an Open Your Heart retreat with Tim Wheater and Chloe Goodchild.  On the way there I drove through Hartfield and then noticed the gloves I had picked out of my cupboard had hearts on them (which I'd never noticed before!).  Of course during the retreat we chanted the Heart Sutra, worked our way through the seven sounds of Love and one of the poems I synchronistically picked out during the weekend was all about love and the heart.  A few days ago my beautiful friend Celia sent me a truly exquisite heart shaped necklace… and so the message from the Universe is obviously to be love, feel love, speak love, breathe love, sing love, hear love and walk love!   A message for all of us with the new energies that are coming in for 2012 and beyond.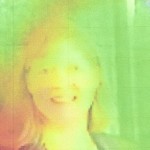 A few weeks ago I had my aura photo taken, a very healthy shade of green (apparently a must for a healing practitioner) and we conducted a little experiment.  I placed my right hand on my Antahkarana and my left hand on the sensors for the aura machine.  The machine has a programme which shows the condition of one's chakras at any given time.  I know from the healing work I do that my heart chakra tends to be very open 99.9% of the time.  It was interesting to watch all of my other energy centres enlarge as I held my hand on the Antahkarana, but the heart chakra diminished just slightly, bringing me perhaps back to a normal heart chakra condition.  Many healing practitioners and therapists have their heart centres wide open which can often leave them prone to giving too much in their wish to help others with little time spent for themselves. The Antahkarana was bringing me back to a more balanced place. Despite this, I mentally started repeating the words "I am love" and it was amazing to watch the centre open really wide again.  This is perhaps worth noting when life throws things at us which could potentially close our hearts (anger, distrust, despair).
During this time of year, the festive season is very much a season of the heart.  Our hearts allow us to be generous to others, to be kind, to experience the joy of celebration and the joy of giving and receiving.  Our hearts allow us to bask in the love of our friends and families, as well as allowing us to be compassionate to those less fortunate.    Often people find themselves with family members who challenge them at this time of year, and the energy of the heart also provides tolerance and allows us to forgive those who may have hurt us in the past.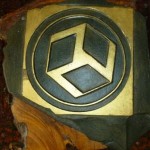 For those of you who have not come across the Antahkarana before, it's a non-traditional Reiki and Universal Symbol used by Western Reiki Master Teachers and by many different cultures and spiritual disciplines for healing and connecting to one's Higher Self.  It is said that by simply having the symbol in your presence, it will have a positive effect on the chakras and the aura, as was demonstrated during my aura reading.  I teach this particular symbol on my Usui Reiki Master Teacher course should you be interested in working with this powerful symbol further.  The picture on the left is of one of the Antahkaranas we produce.  Should you wish to purchase a bespoke sculpure of the Antahkarana, please contact us for individual pricing.
I personally tend to always celebrate the Winter Solstice and Yule every year as my major festival and not so much the Christmas experience, shying away from commercialism and over indulgence.  I find this season for me is a time of deep meditation, reflection and insight which allows me to review the experiences of the past year and have vision for the forthcoming one.  Following a lovely weekend at the Open Your Heart retreat which set the tone for my period of reflection, I have started on a two week juice and water fast before the long awaited 2012 dawns.
Next year I'm going to be running several exciting retreats and events  which will for myself and the participants be heart opening events!  We will start off with the Reiki Drum Share in March which is looking like it's going to be a fabulous day, with lots of people already coming from all around the UK.  We are planning on having the aura photography unit there for people to see their own energy fields.  The Sound & Light Retreat in April will be a joyous occasion, celebrating Beltane and is a wonderful introductory weekend to sound healing and finding your voice in the high vibrational centre, Dev Aura.  In July we are holding the very special Reiki retreat at Glastonbury Abbey Retreat House (Glastonbury being the Heart chakra of our planet), very apt for the heart opening energy of 2012.  I've also recently finalised the details of next year's Reiki Drum Practitioner & Samhain Residential which due to the success of this year's retreat is going to be extended an extra day so we can enjoy even more drumming.  I would definitely encourage people who are interested in learning the technique to attend that retreat if possible. It's a marvellous opportunity to learn the Reiki Drum teachings over four days with lots of added extras at the auspicious turn of the Celtic New Year.   Currently all of these events have spaces remaining should you be interested in joining us and details can be found on the Retreats page.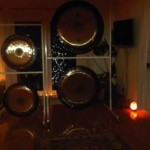 I'm now running twice monthly gong/sound healing evenings in Sawbridgeworth,  East Herts on or around the new and full moons.  The evenings are limited to six people maximum.  We start with meditation and breathing exercises followed by the gong/sound bath which lasts an hour and is followed by light refreshments and time for people to share their experiences or just get to know each other.  Synchronistically people who are meant to be together on these evenings are guided by the Universe to attend, and they are very healing and enlightening.  Cost is £16.  If you would like to be added to the mailing list for this particular event, then please email me at info@reikidrum.co.uk I was fortunate to find a Neptune Gong on the second hand market recently to add to my growing collection.  Neptune is the gong of the Mystic and brings in the energy of the mystical, dreams, art, poetry, music, spiritual devotion, psychic abilities and ESP, compassionate, sacrificial, psychic and cosmic awareness. Whenever a new gong comes into my life, the energy of that gong also arrives and I'm loving this new energy very much, it seems to fit nicely at this period in time.
So all that remains is for me to wish you all Solstice blessings, a joyous Yule and a Happy Christmas.  Let us open our hearts and embrace whatever our earth journeys have in store for us during 2012.
Forthcoming Classes and Events
Gong/Sound Evening – January 9th (Full), January 23rd (Full), February 6th (Full), February 23rd, March 8th
Reiki One (Shoden) – January 28th& 29th
Reiki Two (Okuden) – February 14th & 15th
Reiki Drum – January 21st and 22nd, March 3rd & 4th
Reiki Master Teacher – 18th -20th May
Karuna Reiki – 10th & 12th February
Reiki Drum Share – 25th March, Sheering, Essex
Sound & Light Retreat – 27th-29th April, Lincolnshire
Reiki Retreat – 5th-8th July, Glastonbury
Reiki Drum & Samhain Residential – 26th-29th October, Suffolk