Reiki First Degree - Shoden
Shoden introduces the student to the Reiki energy by a series of attunements. It is the beginning of the Reiki path of self healing and transformation and enables you to treat yourself and others.
Course Structure

•Gentle Chi Kung movements introducing the Three Diamonds and the Hara
•Meditations and Visualisations
•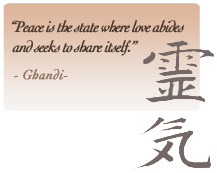 What Reiki is and how it works
•History and Origins of Reiki
•The Reiki Precepts
•Four Reiki First Degree Attunements
•Practical Energy Exercises
•The Human Energy System and Chakras
•Power of Intention
•How to carry out self-treatment – Practical
•How to treat others – Practical
•Protection Techniques
•The Reiki Shower Technique
•Experiences during Reiki Treatments (Giving/Receiving)
•Treating Animals
•Other uses for Reiki
•Understanding your Body's language
•Looking after oneself
•Reiju Empowerment

Forthcoming Dates 2017: 4 & 5 November
Forthcoming Dates 2018: 3 & 4 February •28 & 29 July •10 & 11 November
Duration of Course: 2 days •Fee: £150 •Deposit: £70

Venue: Sawbridgeworth, East Herts
Please contact us if you would like to arrange a one on one course which is held over one day.

Reiki First Degree - Shoden »
Reiki Second Degree Course (Practitioner Course) - Okuden »
Advanced Reiki Training & Reiki Master Teacher Course - Shinpiden»
Advanced Reiki Training - Reiki III (Master Healer) »
Reiki Master Teacher - Reiki IV »
The Reiki Drum Technique »
Karuna Reiki® »
Reiki Kotodama Workshop »