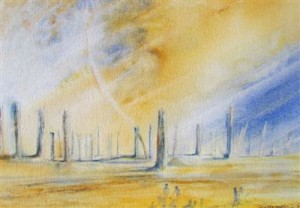 Dear Reiki Friends, my lovely colleague and fellow Reiki Drummer, Yasmin May is holding an Earth Blessing and Earth Healing Ceremony on Saturday 23rd February from 11:00 until 13:00 at Wood Henge, Red House Farm, Woodwalton, Cambridgeshire, PE28 5YL.
She is inviting all Reiki Healers and Reiki Drummers to take part in this sacred ceremony of channelling positive energy into the ground before it is turned into a Wood Henge by landowner Stephen Parsley and Derek Massey the artist.  The project involves erecting Fen Oak trees that are over 10,000 years old in the formation of Stone Henge.  The vision for this project is to provide a sacred place where people can spend time alone and recognise the needs of the earth.   The event will include a blessing, drumming, chanting and healing.  There is no fee for this event, Yasmin on behalf of the Huntingdon Reiki Share Group is hoping as many Reiki people and Reiki Drummers can attend as possible.  This is the opportunity to be at the Inception of this beautiful project which looks like it is going to provide sacred and spiritual solace for many in years to come.
More Info: Media Information on Wood Henge
What to bring:  A drum if you have one, a very small crystal to leave in the earth, something to sit on that you don't mind getting dirty.  Hot/cold water and toilets will be available but you may want to bring a cup and your own refreshment/snack.
Directions:
Junction 15 Off A1 (between Huntingdon & Peterborough), Follow signs B1043/B1090 to Wood Walton, After 2 miles turn left into Wood Walton, 2nd Farm on left is Red House Farm.  Drive through wooden gates, car parking available on site.
I feel really privileged to be taking part in this event, which seems like it's something rather special and am looking forward to it immensely.  I hope to see some familiar faces there.  Sending love, Sarah xx