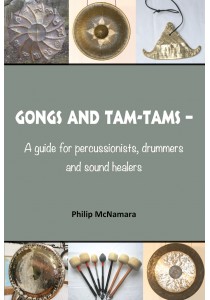 Dear Sound Healing Friends, I've just returned from the  College of Sound Healing's annual conference.  It was lovely to catch up with old friends and make some new acquaintances too.  It was a joy to bump into my friend Phil McNamara at the conference.  Phil and I trained together on our Gong Practitioner's Course with the College.  Phil has had a life long interest in gongs, and besides a more recent interest with gong sound healing, has played as a percussionist in various different orchestras throughout the UK.  As such, he is something of an expert on gongs, and I would like to recommend his recent book, Gongs and Tam-Tams:  A Guide for Percussionists, Drummers and Sound Healers.  I often get asked during gong baths about the gongs and this book is an excellent resource if you want to find out more about the actual different gongs that are available around the world.
Gongs and Tam-Tams:  A Guide for Percussionists, Drummers and Sound Healers can be sourced from Sound Travels as well as YPD Books and Waterstones and is highly recommended for those of you who would like to purchase your own gong and are bemused by the different ones available.  This book is a one-stop shop covering all aspects of these fascinating instruments. With information about their construction, history, and playing techniques as well as the paraphernalia needed in terms of beaters, cases and stands, cleaning and care, and a comprehensive listing and description of many of the gongs available today or in the recent past.
This book is intended for anyone interested in gongs, from players through to sound healers, including composers, music arrangers, and students of music, metallurgy and percussion history. It is believed to be the first book of its kind in the World, and would be an excellent Christmas present for anyone who is just about to embark on their gong journey.
Another reminder about the Reiki Drum Share next March 24th in Essex.  As always, it's booking up fast.  There are about 15 spaces left.  Please let me know should you like to attend and I will reserve you a place.  The same applies for the North Cornwall Reiki retreat which is being held around the Summer Solstice next June 17-21st.  This is going to be the most magical of the retreats I have run over the past few years.  It truly is not to be missed and there are a handful of places remaining.  This retreat will be a wonderful opportunity to deepen your Reiki practise in beautiful, high vibrational surroundings so conducive to self development and healing.  Please let me know if you would like further information.
I have a beautiful three days ahead of me.  Shoden tomorrow, followed by two days of Okuden and a Reiki Share tomorrow night… what bliss!  I am looking forward to seeing some of you at our Sawbridgeworth Yule chant evening on 6th December and of course for the Ascension Evening 12.12.12 which is going to be AMAZING!
With love xxx
Forthcoming Events:
November 23 – Reiki Share (Students only) 1930 hrs (donation).
December 6 – Christmas/Yule Sacred Chant Evening, 0730-0930 hrs, Sawbridgeworth. Fee £8 payable on the night

December 12 – Ascension Evening 12.12.12. A magical evening of sound commencing with sacred drumming, a special group Ascension Ceremony and a hour long gong bath meditation. Sheering Village Hall, Sheering, Essex.  Doors open 07:00 pm, last entry 07:25 pm.  Gong Bath  ends at 10:00 pm.  – Fee £20 payable in advance.  An evening to celebrate our interconnectness with like minded. (Full)

January 26 & 27 – Reiki Drum Practitioner Class, Sawbridgeworth
February 2 & 3 – Reiki One Shoden
February 9 & 10 – Reiki Two Okuden
Sunday March 24th 2013 – Reiki Drum Share, Sheering, Essex to celebrate the Spring Equinox 10:00-16:30  Fee £20 payable in advance.
Monday 17th-Friday 21st June 2013 – Reiki Retreat, Tintagel, Cornwall