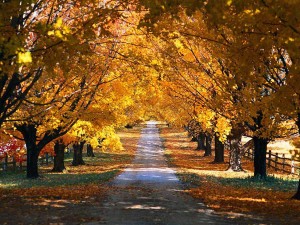 Here we are, Summer is at an end, Autumn beckons and another few weeks have sped by – I can totally appreciate the concept that time is speeding up on the physical plane!  I'm still learning the lesson about balancing one's time between rest and activity, and the last few weeks have been a whirl of exciting activity with a little bit of rest thrown in for good measure!  I remember going to a retreat three years ago and putting the question into the pot as to whether lightworkers and those of us who are striving to raise consciousness in this world would be busy with the run up to 2012 and I have seen many of my colleagues over the past year being kept fully occupied in their endeavours to create a shift in humanity's awareness.  2012 looks like it is going to be even more so!  I have some really exciting events planned for next year already.  I haven't really mentioned the wonderful weekend retreat spent at Dev Aura in Lincolnshire back in June to celebrate the Solstice.  What an amazing, high vibrational place.  I was fortunate to be joined by a beautiful group of souls and it was a joy doing the sound and healing practises with them in such a nurturing, light filled space.  I just had to book the venue again for next year, so will be running a Sound & Light Retreat 27th-29th April, this time to celebrate the beginning of Summer and Beltane.  If you are interested in learning more about Sound Healing as well as spending time with like minded souls in a very special space, then this truly is a beautiful weekend.
I wanted to run another Reiki retreat in 2012, it being a special year for all of us in terms of humanity's history.  We've been working towards this period for many years and although I feel the energetics are happening currently and have been for some time, it felt important to mark 2012 in a special way.  As such I'm very excited to be holding a four day Reiki retreat at Glastonbury Abbey Retreat House, Glastonbury, Somerset from the 5th-8th July.  Glastonbury is a very special centre for spiritual seekers, not only for its history but also for the powerful energy located there, thanks to the Mary and Michael lines which pass through the town and its various power spots.  The retreat will give those attending the opportunity to sit and experience the Reiki energy and Reiki practises as well as sampling the many treasures Glastonbury has to offer.  I have advertised this out to students who have trained with me in the past and have been overwhelmed with the positive response and there are only a few spaces remaining.  If you would like to join us for these special few days, then please let me know at the earliest opportunity.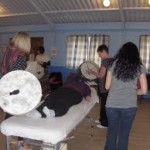 For the third year running, I will be organising a Reiki Drum Share in Sheering, Essex on Sunday 25th March, a few days after the Spring Equinox.  The past two years have been really high energy events and wonderful days for networking with like minded Reiki practitioners.  Open to all Reiki attuned people, anyone is welcome to attend, preferably bringing their own drum.  Please contact us for further information.
For those of you who have been following our cancer journey, we have some positive news.  To update those of you haven't been aware of the adventure my family have been on for the past year, my mother-in-law June was diagnosed with a particularly aggressive form of cancer, mesothelioma in December last year after being ill for just a few months.  The prognosis was as bad as it could get and she was told to go home and put her affairs in order.  Because there was nothing the medical profession could do for her at that time we had nothing to lose, so embarked on a natural healing approach with naturopathic diet, herbal and supplementation regimes and intensive natural healing in the form of Reiki and many other healing modalities.   Despite making some incredible advancements in her health (see previous blog posts), at the end of May, June's health started to deteriorate and we feared the worst.  As a family we pretty much thought we would be spending our last few weeks with her.  What actually took place was that she was going through some intensive healing and bounced back with a vengeance a few weeks later.  She threw a huge party for her friends and family and has been going out with her friends on a regular basis ever since.
If you talk to the other members of the family they are not going to lie and say it's been easy.  It hasn't.  It's been such an emotional strain on everyone, (and the chaotic 2011 energies have been challenging for everyone I talk to!) but what has been achieved has been incredible.  June followed the regime to the letter for six months.  She then started to introduce a few "normal" foods from her old diet back into her daily eating, and continues to also eat the naturopathic diet of juices, smoothies, soups and salads.  She is also taking the herbal remedies, and has dropped her therapy regime down to about twice weekly (she was having treatment almost daily at the beginning of the year).  She has not visited a hospital since January of this year and the only medical attention she has received was for a cut on her leg which needed attention when she bumped into an open dishwasher door a month or so ago (after overzealously cleaning her kitchen!)    Everyone is quite amazed at how well she has been doing.  We are certainly not taking her new found health for granted, and are aware that we need to continue to view each day as a gift, but as a regime, we are convinced this has been the best way to go.  There have been none of the exhausting and stressful hospital visits and June has been surrounded by her family and friends in her own home, living a fairly normal life.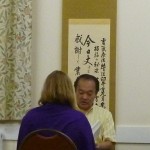 I've also been heartened to hear some really good things the last few weeks about Reiki and it's role in the community.  Many years ago when I first trained in Reiki, I had a conversation with Sharon, the lady I studied the Western Reiki Master training with, about how Reiki should be practised fully within the NHS, and how it had to be our future.  Shortly afterwards, synchronicity being what it is, she received a call from an Administrator from one of our local hospitals, wanting to learn Reiki.  Several years later there is a wonderful programme available at this hospital. Reiki practitioners offer their services every Monday to both general public and hospital workers.  Reiki practitioners are also employed on a part-time basis as members of the NHS staff at several other hospitals in the area.  In August I furthered my Reiki training by repeating Shoden and Okuden in the Jikiden Reiki lineage with Tadao Yamaguchi (here's a pic of me receiving my certificate from Sensei).  I was overjoyed and blessed to meet a G.P. on that course who practises in a NHS practise within the UK and also is a Reiki practitioner.  It is obvious to me that Reiki has definitely got a stronghold within mainstream consciousness and the future is looking bright indeed!
Reiki Drum is also going from strength to strength here in the UK.  It's syllabus and course structure is recognised by  leading practitioner organisations such as the UK Reiki Federation, Embody and the FHT as a style of Reiki in its own right.  Following the teacher Assessment day in August, another Master teacher, Julie Rennie joined the other wonderful qualified teachers who are spreading Reiki Drum around the UK.  For those of you who would like to teach this technique as recognised Reiki Drum Master Teachers and join them in spreading awareness of this magical and deeply healing practice, you will need to attend the Reiki Drum Practitioner Training, already have experience in teaching Reiki to Reiki Second Degree level, complete case studies and successfully attend and pass a Master Teacher Assessment Day.  If you would like to join us, there are a few spaces left on the November Reiki Drum practitioner training being held in East Herts November 5th & 6th.
I also want to mention the UK Reiki Federation in this post.  This organisation does such important work and has been instrumental in raising awareness of Reiki here in the UK over the past few years.  It is highly supportive of its members and if you are looking to join an organisation to support you in your Reiki practise you could find no better.  I think much of our gratitude for Reiki being in mainstream consciousness is down to the incredible work this organisation has done and continues to do.
Maintaining these positive thought, I'm very much looking forward to the next few months with the numerous classes being held and our Reiki Drum residential in Dunwich.  Wishing you a bountiful Autumn!
Reiki Drum Practitioner –   5/6 November
Reiki Drum Practitioner & Samhain Residential Retreat – 28-30 October (Full)
Reiki Share, Sawbridgeworth, 23rd September (Students only)
Reiki One(Shoden) – 1/2 October (Full), 3/4 December
Reiki Two (Okuden) –  22/23 October
Reiki Master Teacher (Shinpiden) 18-20 November